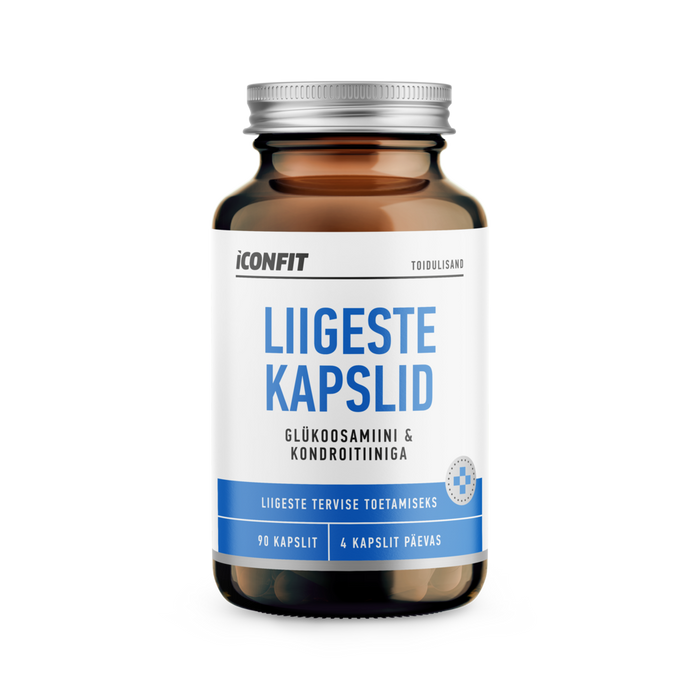 ICONFIT Joint Capsules (90 Capsules)
ICONFIT Joint Capsules is a complex product developed to support joint health, bones, connective tissues and cartilage. It contains a total of 9 effective ingredients and is intended for people with joint problems or for anyone needing extra support for their joints. Produced using only the highest quality plant based capsules.
Contains Glucosamine and Chondroitin, from which tendons, cartilage and fluid between joints are formed.
Indian frankincense (Boswellia serrata) extract supports joint health, flexibility and elasticity.
Zinc and manganese help keep bones healthy. Manganese also contributes to the normal formation of connective tissue.
Vitamin C contributes to the normal formation of collagen for the normal functioning of bones and cartilage.
Hyaluronic Acid acts as a lubricant and protective cushion for the joints. It prevents pain and injury from bones grinding.
MSM is a well known ingredient for joint support. The action of MSM is maximized with the concurrent intake of Boswellia and C vitamin.
One jar contains 90 capsules. Take 4 capsules daily!
✈ Order for at least €29 and get free delivery to Finland, Estonia, Latvia and Lithuania. Order for €49 and get free delivery across Europe!
Save

0

%
Save %
Original price
€15,90
-
Original price
€15,90