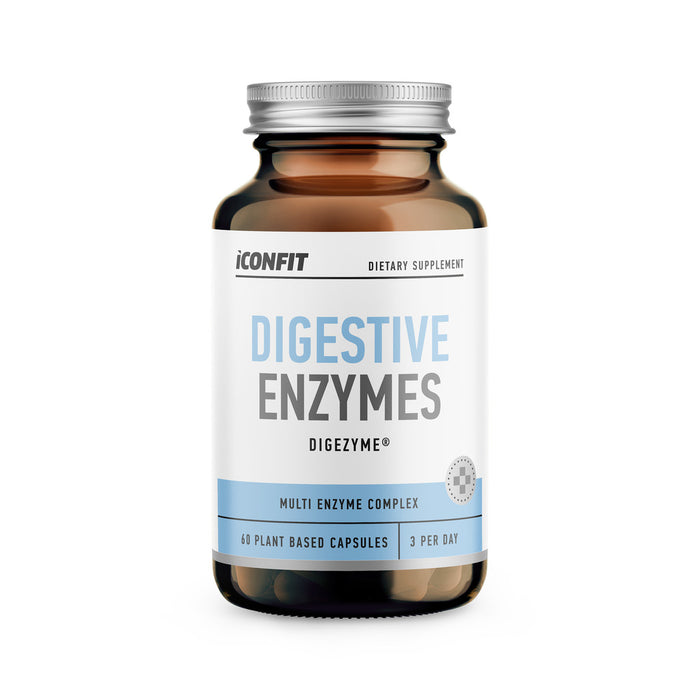 ICONFIT Digestive Enzymes (60 Capsules)
Enhance Your Digestion Naturally

ICONFIT DIGESTIVE ENZYMES is a high-quality dietary supplement designed to support optimal digestion and nutrient absorption. It contains a unique DigeZyme® patented blend of five specific enzymes: α-amylase, protease, lipase, cellulase, and lactase. Additionally, it is enriched with bromelain, a natural digestive enzyme derived from pineapple. 
This powerful combination helps break down a wide range of food components, including carbohydrates, proteins, fats, cellulose, and lactose, promoting healthy digestion and relieving discomfort associated with digestive issues.
α-amylase, protease, lipase, cellulase, and lactase: These enzymes work together to effectively break down different types of macronutrients found in your diet, ensuring optimal digestion.
Improved Nutrient Absorption: By assisting in the breakdown of food, these enzymes may enhance the absorption of essential nutrients, vitamins, and minerals from your meals. This helps maximize the nutritional value you receive from your diet, supporting overall health and vitality.
Enhanced Digestive Comfort: If you experience occasional digestive discomfort, such as bloating, gas, or indigestion after meals, ICONFIT Digestive Enzymes can provide relief. The carefully selected enzymes and bromelain help alleviate common digestive issues, allowing you to enjoy your favorite foods without discomfort.
Broad Food Compatibility: Whether you consume a diet rich in carbohydrates, proteins, fats, or fibers, ICONFIT Digestive Enzymes can assist in the digestion of a wide range of foods. From starchy foods to protein-rich meals, this supplement ensures your body can effectively break down and utilize the nutrients present in your diet.


Take 3 capsules per day before meals with a glass of water.
✈ Order for at least €29 and get free delivery to Finland, Estonia, Latvia and Lithuania. Order for €49 and get free delivery across Europe!
Save

0

%
Save %
Original price
€17,50
-
Original price
€17,50