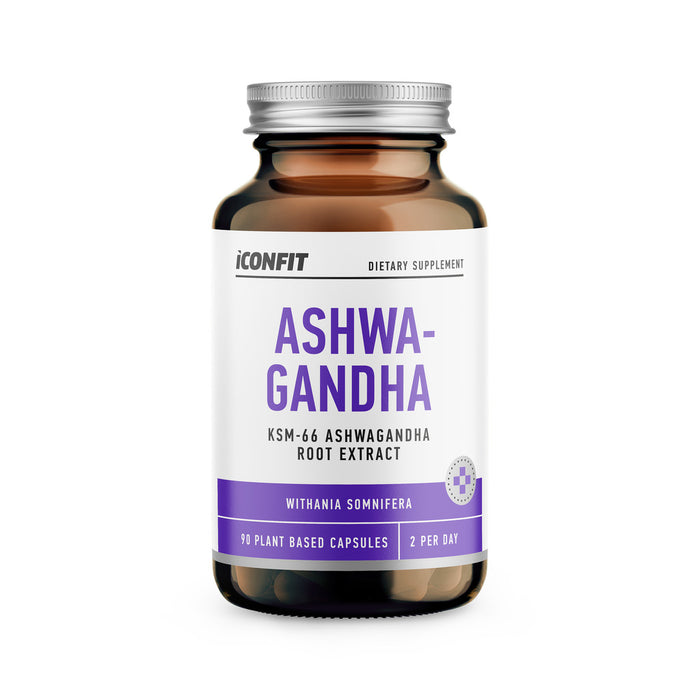 ICONFIT Ashwagandha (90 Capsules)
Harness the Power of Organic Ashwagandha.

These capsules are formulated with premium Ashwagandha extract, a powerful adaptogenic herb known for its numerous benefits. Our Ashwagandha capsules provide a holistic approach to support a healthy mind and body.
Stress and Anxiety Management: Taking ashwagandha capsules regularly may support stress reduction and anxiety management.
Energy and Vitality: If you're feeling fatigued or lacking energy, ashwagandha can provide a natural boost.
Cognitive Function: Ashwagandha has been traditionally used to support cognitive function, memory, and focus.
Immune System Support: Ashwagandha is known for its immune-modulating properties.
Physical Performance and Recovery: Ashwagandha has been studied for its potential to enhance physical performance, increase muscle strength, and support exercise recovery.
Hormonal Balance: Ashwagandha may help promote hormonal balance. It has been traditionally used to support reproductive health, menstrual irregularities, and menopause symptoms.


One jar lasts for 45 days. Take 2 capsules daily with water.
✈ Order for at least €29 and get free delivery to Finland, Estonia, Latvia and Lithuania. Order for €49 and get free delivery across Europe!
Save

0

%
Save %
Original price
€13,90
-
Original price
€13,90